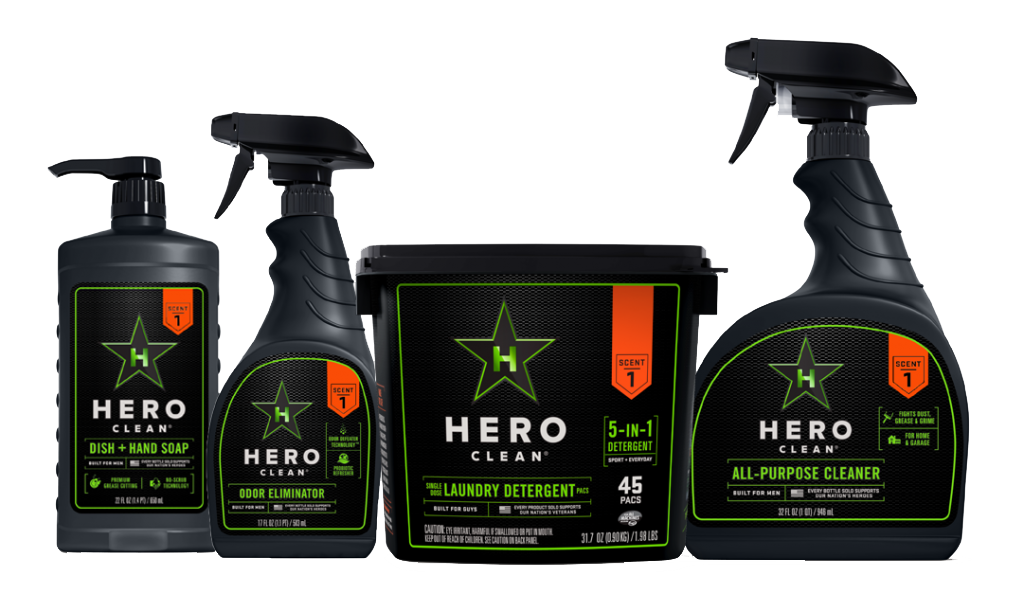 6 Reasons to spend some extra time looking at your options in the cleaning aisle:
1. Technology
All of our products contain our patented Odor Defeater™ Technology, which ensures our products do more than just temporarily mask bad odor with a heavy floral scent. Instead, the odor molecules are surrounded and neutralized. However, the technology doesn't stop with the odor molecules — our Odor Eliminator spray addresses the source of the odor: bacteria. This particular product features probiotic microbes that feast on the bacteria's food source (sweat), starving the bacteria and creating an inhospitable environment for it to grow back. The usage of probiotics in an Odor Eliminator spray is the definition of cutting-edge technology. The other high-tech quality of our line that deserves mention are the 7 powerful enzymes in our Laundry Detergent. The result of this unique combination (most leading brands use 4) is significantly whiter whites and deep stain removal while protecting the integrity of the fabric. As a 2-in-1 every day and sports wash with no harsh dyes or overpowering scents, it's the perfect balance of strong and gentle. 
2. Multi-Use
While the science behind our products is complex, the rules on how to use them are not. Let's just say, if each of our products had a resume — they would all score high in their ability to multi-task. Our Laundry Detergent is a 2-in-1 every day and sports wash, we're still adding to the list of surfaces our All-Purpose Cleaner can be used on, and we're the first ones to acknowledge that hand soap and dish soap ARE THE SAME THING!  
We've combined many of the products you most likely have under your kitchen sink into one because there's really no need to have a product for each surface in your home. 
 3. Packaging
Maybe you're drawn to brightly colored packaging, but for those of us who prefer a monochromatic aesthetic with clean lines — we're calling your name. Sure, our packaging is modeled after motor oil and marketed to the guys' guy, but at the end of the day… we're for whoever is unsatisfied with the performance of their current cleaning products and is sick of smelling like lavender. Which to be fair, is quite a large number of people!   
4. Scent 
Our Juniper scent is not by accident. We sampled numerous scent profiles, testing their ability to specifically knockout male sweat odor. Juniper came away as the winner, leaving our clothes and surfaces smelling clean and fresh no matter how sweaty or smelly the gear was to begin with. However, you'll notice on the packaging that it is technically marked as "Scent 1." We intend to release our product line in several other scents, including non-scented, for those with sensitivities. 
5. Gives Back 
Giving back to our nation's veterans is at the root of our company, which is why we have committed to donating 7% of our profits to the Iraq and Afghanistan Veterans of America (IAVA). As the leading post-9/11 veteran empowerment organization (VEO) with the most diverse and rapidly growing membership in America, they strive to create a country which honors and supports veterans of all generations through education, advocacy and community building. We are proud to support the IAVA, and if you use Hero Clean products, you can be proud as well, knowing that your purchase is making a difference in the lives of America's real heroes.
6. American Made
Our commitment is to make high-quality products that solve everyday problems for real people. In order to oversee the manufacturing of our product, it is made in Miami, Florida. Supporting our country is important to us — and we accomplish this by giving back to Veterans and employing Americans.   
To find out where you can purchase Hero Clean online or in-stores, visit hero-clean.com/shop.