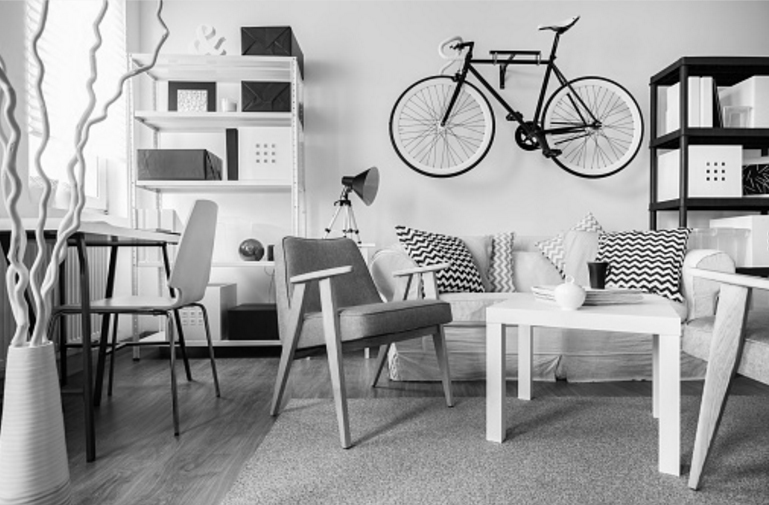 After college there are certain expectations in life. There's the obvious, like get a job and doing your own cleaning. Then there's the less obvious, like dressing up your apartment so it reflects that an adult lives there. When a woman gets a look at where you live the message it sends her shouldn't be one piles of musty clothes and broken futons. You don't have to overhaul your pad to get the right look. There are simple fixes, some of which require elbow grease. To graduate from college kid to bachelor, here are 12 Hero Tips to upgrade your home.
Put curtains up
Curtains are one of the last things you install. They say you've finally moved in. They look sophisticated and are great for blocking the glare the sun puts on your TV. Not to mention they help keep hot air inside during cold weather.
Get a key plate for bowl
You can use a plate from the kitchen, or you can buy a cheap one from the thrift store or online. It offers a small chance to get creative, and gives you a spot that prevents you from ever losing your keys.
Get a bookcase
Even if you don't have books, get a small book shelf…or two. First off, you should have at least a couple books to display. Secondly, organizing movies, games, pictures, or speakers looks better than a pile on the floor.
Dust often
A layer of dust shows that no cleaning is being done. You can use Hero Clean All Purpose Cleaner to wipe down all your surfaces.
Buy a rug
Inexpensive are a great way to add character to a room. Like curtains, they also help keep warm air from escaping during winter.
Get a drink cart
Use a small table or counter space to display your drink options. You don't need a full bar or top shelf liquor, but a bottle or two of whiskey will glasses looks inviting.
Put up framed pictures
You should have a couple pictures worth putting up around your apartment, if not use the stock photography. This is another sign that you've finally settled in.
Get candles
These aren't just great gifts, they're perfect for covering up smells lingering in your kitchen. If those odors are hovering over your hiking gear use Odor Eliminating Spray to knock them out.
Keep track of clutter
At least once a week take a quick survey of your rooms and pick up shirts, plates, and cups. These build up, but are easy to manage.
Have towels in your bathroom
Give people on option to dry their hands on a towel you didn't dry off with after a shower. And have soap, you should always have soap.
Try lamps
Sometimes the mood calls for dimmer lighting than the ceiling fan. Give lamps a chance.
Plants
If you think you have the dedication to water and care for a plant, put yourself to the test. Plants of any size make rooms look bigger and nicer. Keeping it alive shows dedication. Or you can buy fake ones and skip the commitment.
Have cleaning supplies ready for whatever mess can occur. If you're prepared for anything then nothing can catch you by surprise. Laundry detergent and All Purpose Cleaner can keep you fresh and spotless.