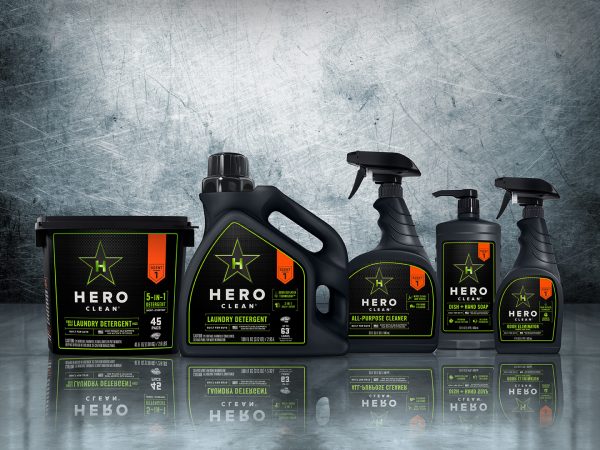 We believe if you have a problem, find a solution. In fact, that's how we got started. Hero Clean is the first-ever line of household cleaning products scientifically formulated to be strong enough to tackle guys' unique sweat, stains, odors and messes. We solve problems. Big ones. And we do it with guy approved packaging, a clean, mild scent and a commitment to giving back.
Who
Hero Clean Founder, Mike Eaton, was in the middle of the cleaning aisle at his local supermarket when the business idea came to him. Mike wanted a laundry detergent that would A) remove stains B) remove odor C) not be embarrassing to buy or use. He realized that none of the available options met his criteria. Thus, Hero Clean was born.
What
We currently offer four core home cleaning products: Laundry Detergent (45 count pods, 50 oz & 100 oz), Dish + Hand Soap, Odor Eliminating Spray and an All-Purpose Cleaner. These are the staples of a household and The Kit is a great way to try all of the products and simplify your cleaning regimen. We have one scent across all of our products, Juniper, one of the bedrocks of gin. Fresh, clean and anything but flowery.
When
We began our official regional launch into stores in January of 2017 with products at Wegmans Supermarkets, select Ace Hardware Stores and Runnings Farm and Feed. We are in the midst of a national rollout into Target Stores and Ace Hardware stores across the country. Prior to the national launch – we reformulated and re-packaged our product to make it even more powerful and stand out on the shelf.
Where
Hero Clean products are available online at Hero-Clean.com, Jet.com, Amazon.com & Target.com and in Wegmans, and Runnings select Ace Hardware locations, and our 45 Count Laundry Detergent Pods, 100 oz. Laundry Detergent and our Odor Eliminating Spray are all available nationwide at Target.
Why
We offer a product that utilizes cutting-edge technology to solve multiple problems. Our products conquer "Stinky Boy Syndrome" while eliminating the need for multiple products to tackle one job. Hero Clean is for everyone, and we guarantee that it can handle the dirtiest chores you throw at it. Our mission is to restore peace in the household by eliminating odor, stains & messes — but we aim to make a larger impact as well. We've committed to donating 7% of our profits to IAVA, the Iraq & Afghanistan Veteran's Association. After all, our veterans are the epitome of heroes. While our products are marketed to the everyday heroes — the mothers and fathers doing the dirty work to keep the family flourishing — we must recognize the monumental sacrifice our troops make every single day. We donate to veterans associations and employ veterans so that you can give back with every purchase.
Hero Clean is a line of simple products that do complex work. We've developed a line we're confident in and a brand that we believe in. We intend to tell the stories of everyday heroes, the folks continuously working towards their goals. We want you to know that we have your back when you roll up your sleeves and dive in.
We're not afraid of hard work. Get dirty. Get clean. Give back.