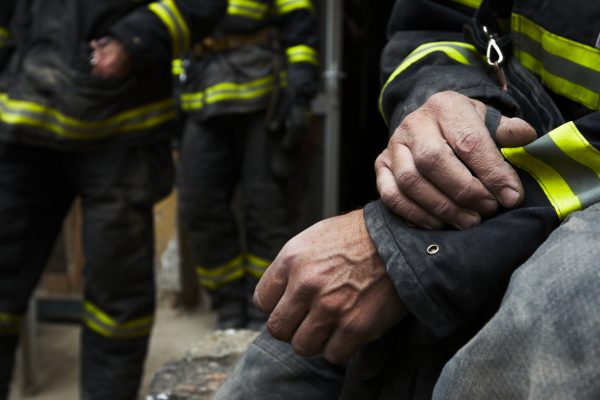 Our mission is to support programs that benefit both Veteran and First Responder communities. The First Responder community consists of firefighters, police officers and EMTs that frequently risk their own lives for our benefit and rarely ask for anything in return. While we help provide product and financial support for this group, we wanted to share some of the other brands and organizations that support these important causes.
The goal at 5-5-5 Firefighter Fitness, Inc. is to help reduce line of duty deaths in the fire service. This is accomplished through fitness programming that enables first responders to be able to do their jobs more effectively and to live longer, healthier lives. Aside from daily workouts, 5-5-5 Fitness also provides "Strength is Our Foundation" grants. These include various cardiovascular, strength and job-specific training tools and equipment for departments to better their health and fitness. To support their mission, you can shop 555 Fitness apparel. 
Whataburger
Whataburger, a southern favorite, is a corporate sponsor of The 100 Club of Central Texas, a non-profit organization that provides immediate financial and emotional assistance to the families of first responders who have been critically injured or killed in the line of duty. Aside from their financial commitment to The 100 Club, Whataburger jumped into action following Hurricane Harvey,  by donating $150,000 to the Red Cross, and another $500,000 to local food banks. After the clean-up efforts, the company released a video to publicly thank the first responders and citizens that lent a helping hand to their communities.
Motorola

 
The Motorola Solutions Foundation is a legacy sponsor (has given over $100,000) of the National Fallen Firefighters Foundation, whose mission includes reducing firefighter deaths and injuries. The Motorola Solutions Foundation's purpose is to help people be their best in the moments that matter. They accomplish this by arming first responders with the intuitive, nearly indestructible radios and devices that help them do their job both more effectively and safely.
The Gary Sinise Foundation supports those who sacrifice to defend our country: active duty, veterans, first responders, and their loved ones. They have created nine key programs to show gratitude for American heroes through entertainment, family support, and acts of appreciation. One of those programs, First Responders Outreach, recognizes and supports America's firefighters, police, and EMTs by providing equipment and training, ensuring these heroes can perform to the best of their abilities. The Gary Sinise Foundation also lists their corporate sponsors, which include established brands like American Airlines, Owen Corning, and General Electric. 
A part of being a responsible citizen is recognizing the power of your purchase. While direct donations to vetted charities should remain the primary way to give, it certainly doesn't hurt to be educated on the brands that are actively supporting First Responders. Now if you ever need workout gear, a good burger, or a plane ticket — you know where to go. If you'd like to learn about the brands that support the Veteran community, visit: 6 brands that give back to Veterans.