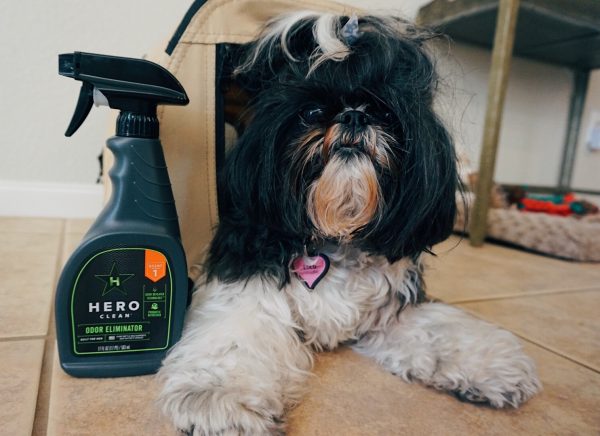 Hero Clean doesn't just eliminate the intense odor that stems from sweaty dudes and stinky boys — it also takes care of all the odors and messes that come from our beloved pets. 
No matter how cute your dog, kitten, or (insert any other animal) may be, we know that being a pet parent is not Instagram-worthy at all times. Because no matter how many puppy pads you lay out or how high-tech your automatic litter box is — these tactics will fail you at one point or another. And at that moment, you will be searching for a household cleaning product that not only cleans up the mess but eliminates any odors related to it. Our All-Purpose Cleaner is designed for a time such as this and is a welcome alternative compared to a seriously pungent homemade vinegar mix, or a heavy-duty cleaner that leaves you slightly lightheaded. When using our All-Purpose Cleaner, be sure to reserve it for pet areas, rather than directly on the pet.  Yes, we had to say that.
In other instances, there isn't visible proof of your pet's mistakes… but there most definitely can be a curious scent left behind. There is absolutely no denying that there are distinct smells associated with both cat and dog owners. For pet beds and any other area he or she has claimed, there's our Odor Eliminator Spray. With our Odor Defeater Technology™ that immediately starts working on contact and our Probiotic Microbes that go after the bacteria causing the odors, you get a 1-2 punch that even that Tyson guy would respect.  You simply spray the item/area down and set it out of your pet's reach until dry. The result? Fresh and clean areas for both you and your pet to enjoy. If you often transport your furry friends — we suggest that you keep a bottle of the Odor Eliminator in your car to spray the seats and floorboards once you've reached your destination.
There are about a hundred different scenarios where our All-Purpose Cleaner or Odor Eliminator Spray can be used thanks to your pet, but we prefer to shy away from describing the dirty details. That being said, we would love to see the angelic face behind the mess! Submit a photo of your pupper, doggo, or cat with Hero Clean and we will award the cutest picture with a $50 Gift Card to Chewy! For details on how to participate, go here: http://bit.ly/2i8CsbW