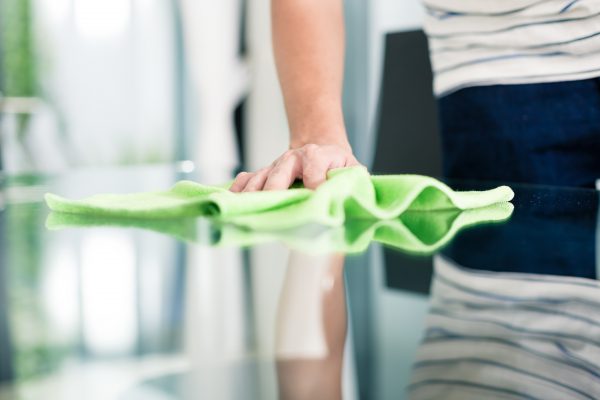 Three considerate and inexpensive Valentine's Day ideas for those who don't want a $6 Hallmark card or a stuffed bear that eventually finds its way to the "donate" pile. As an alternative to the overpriced classics, do something thoughtful that not only shows you care but makes life a bit easier.
DISCLAIMER: You should know your significant other. We are not responsible for any fights due to not knowing that their "love language" is gift giving, NOT acts of service. 
Hit the kitchen.
Don't just cook a good meal, take it a step further and clean the kitchen! Not just a simple wipe down of counters either. We're talking soaking the oven burners, deep cleaning the fridge, and organizing the pantry. Your partner might not notice right away, but come time to cook his or her own meal — it will be much appreciated. It certainly doesn't hurt that our All-Purpose Cleaner leaves a fresh and clean Juniper-scent behind. She'll probably wonder how the kitchen not only looks so clean but smells SO good!?
Dive into the honey-do list.
You know — the ever-growing list of things to do around the house that "you'll get around to soon." This Valentine's Day, write out your list and get to work crossing them off one by one. Relationships are about commitment, and committing to the things you said you would do are a part of that — like snaking the drain or hanging that gallery wall.
Make a "1 Week of Cleaning" Pass.
In today's home — it's common practice for partners to split chores evenly (as it should be). Regardless of how busy we are on a day-to-day basis, we all have to suck it up and make time to take care of the household, no matter how much we want to kick back and binge-watch the latest Netflix series. Show your significant other that you're willing to shoulder the full load of work from time to time by offering to take over your partner's half of the chores for an entire week. The only catch is that you have to do it with a smile; no one wants to have to crank the volume over your grumbling.
If all else fails, blindly run through the house with your Odor Eliminator Spray in hand. That way you can honestly say you've been busy fighting bacteria in her honor. Best of luck.