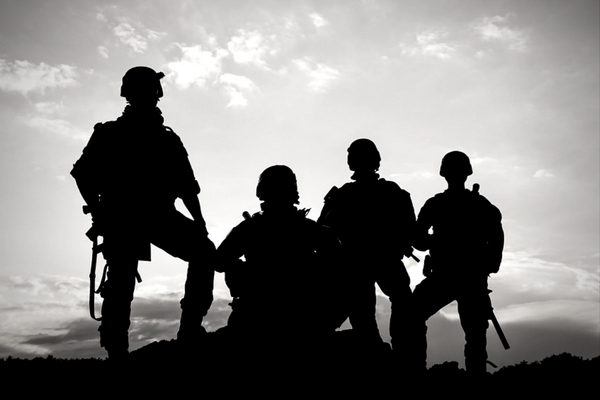 When creating Hero Clean a few years ago, we knew we wanted to be a company that gives back. While we view our line of household cleaning products as a solution to a very real problem, we wanted to address an issue larger than battling odor – a lack of resources and support for America's veterans. So, we joined The Movement,  donating 7% of the profit from every product to Iraq and Afghanistan Veterans of America (IAVA),  the leading post-9/11 veteran empowerment organization (VEO) with the most diverse and rapidly growing membership in America. Through education, advocacy and community building, they strive to create a country which honors and supports veterans of all generations.  We are proud to support IAVA, and if you use Hero Clean products, you can be proud as well, knowing that your purchase is making a difference in the lives of America's real heroes.
"Hero Clean's commitment to our nations' veterans isn't a temporary promotion — it's part of their DNA and a pillar of the brand. Every bottle of Hero Clean supports veterans and fund important IAVA programs and initiatives. We at IAVA are proud to be their philanthropic partner and appreciate your support of brands that support our nation's heroes."

– Paul Rieckhoff, CEO and Founder of IAVA
Thankfully, we're not the only brand that is dedicated to giving back to our nation's veterans. Below are six brands that were either started by veterans, employ, or donate portions of their profits to veterans:
The UA Freedom Initiative is Under Armour's commitment to supporting the brave men and women who put their lives on the line to protect us. A key part of this initiative is co-branded Under Armour and Wounded Warrior Project apparel and accessories. Under Armour has committed a minimum of $5 million in 2016 to WWP to help veterans and their families not only survive but thrive.  Under Armour has also teamed up with Dwayne "The Rock" to help support those who have devoted their lives to defending our country. For starters, a 10% discount is offered to active duty Service Members, Veterans & First Responders site-wide & in all Under Armour Stores. UA Freedom is committed to helping first responders, military and veterans maintain a healthy lifestyle through an assortment of programs — from building gyms for Baltimore City firefighters to workouts with injured veterans,
American Built is an apparel line that was started by Nick, a Marine sniper that was deployed three times —twice to Japan and once to Iraq— was wounded in service and received a Purple Heart. Nick received an honorary discharge and returned to his hometown of Pocatello, Idaho to be with family. He then created American Built, a brand founded by those who served in the Military, and a brand that continues to support those who have served this country past and present.
Broken Gear Wear is an apparel company 100% owned by Service-Disabled Veterans, whose mission is to hire as many Service Disabled Veterans and Veterans as possible.  Broken Gear's corporate culture is similar to a military unit which provides these vets a familiar environment.  They feel the camaraderie they had when serving and Broken Gear is understanding of their needs. As a brand, Broken Gear was founded on the principles of Grit, Determination, and Perseverance.  A person who wears their clothing shows they value these principles at their core.  Broken Gear financially supports disabled veterans and disabled athletes, but more importantly — they support their spirits.
Sword & Plough has been in the making since Emily and her sister, Betsy, were born into a military family. Emily went on to serve as an officer in the U.S. Army and it was her idea to repurpose wasted military surplus into fashionable urban bags. They empower veteran employment by incorporating veterans into every stage of the business (as designers, managers, sewers, quality control experts and even models), and strive to bridge the civil-military divide with branding and outreach, Sword & Plough repurposed bags are conversation pieces that help bring public awareness to veteran issues.
Starbucks gives back to the military and veteran communities in more ways than one, but their commitment to employ veterans and military spouses is beyond amazing. In 2013, Starbucks committed to hiring 10,000 Veterans and Military spouses by November 2018. In March 2017 they reached that goal and pledged to increase that number to 25,000 by 2025. Their commitment extends beyond hiring, it also includes expanded benefits, establishing places for the veteran and military community to connect, creating volunteer opportunities, leveraging their unique experience to positively shape their company and our world.
The company gives back to an amazing organization that helps expecting military mothers called Operation Shower. Since 2012, Babies"R"Us and Operation Shower have celebrated hundreds of families across the country from all branches of the military. Toys"R"Us, Inc. and the Toys"R"Us Children's Fund together have provided more than $500,000 to the organization through grant funding and in-kind donations, including Babies"R"Us Gift Cards, for distribution at the shower events. Military moms leave these events with many baby must-haves and are able to shop for even more items they may need.
Next time you shop, consider supporting companies like these that proudly support our nation's heroes. Please email us at [hey@hero-clean.com] with other national brands that support military and veteran causes.