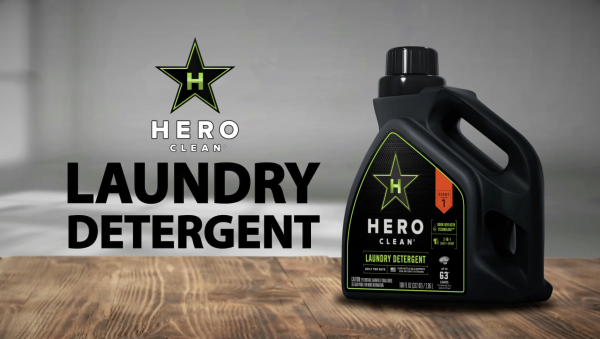 You have a stain or serious odor so ridiculously embedded in your favorite shirt, that you've turned to the internet for a solution. Neither your typical detergent nor your creative baking soda + vinegar concoction has done the trick. Well, you've come to the right webpage. To apply our cleaning guide to your issue, you first need to be equipped with our Kit aka the only 4 products you'll need to maintain a clean and fresh (but never floral scented) household. 
The star of today's show is our Liquid Laundry Detergent, which is a powerhouse in its own right. A 5-in-1 sport + everyday detergent with world-class odor control and an advanced 7 enzyme system for stains — this guy can single-handedly knockout your issue 9 times out of 10. For the stubborn, previously treated and failed stains, we suggest bringing in the complete team. 
While the All-Purpose Cleaner (APC for short) typically spends its time cleaning kitchen countertops and shower walls, it removes all grime, no matter the surface. For gnarly dirt and grass stains, use the APC to spot treat. Let it sit for a bit and then wash normally with the Liquid Laundry Detergent. 
Our Dish + Hand Soap is a beast at removing kitchen grease and olive oil from pots and pans, so why shouldn't it do the same from fabrics? Blot some of the soap onto the stain and let sit for about two hours. Throw garments in the wash with the rest of your load and return to the couch to wait it out. Your favorite jersey will be ready in time for tip-off.
Our Odor Eliminator Spray does just what it says. Sweat, pet, and smoke odors don't stand a chance — no matter how intense. And yes, this includes the scent emitting for your teenage son's room. Spray down the offending item(s), let them sit overnight and wash normally. This also happens to be a great solution for the gear (boots, sports equipment, car interior) that can't be thrown in a washing machine. 
No matter the solution you choose — no fabric will be harmed during cleaning, colors will be brighter and whites will be whiter. Best yet, you still won't smell like a fruit no one's heard of and you'll simultaneously be giving back to America's heroes. Win-win.