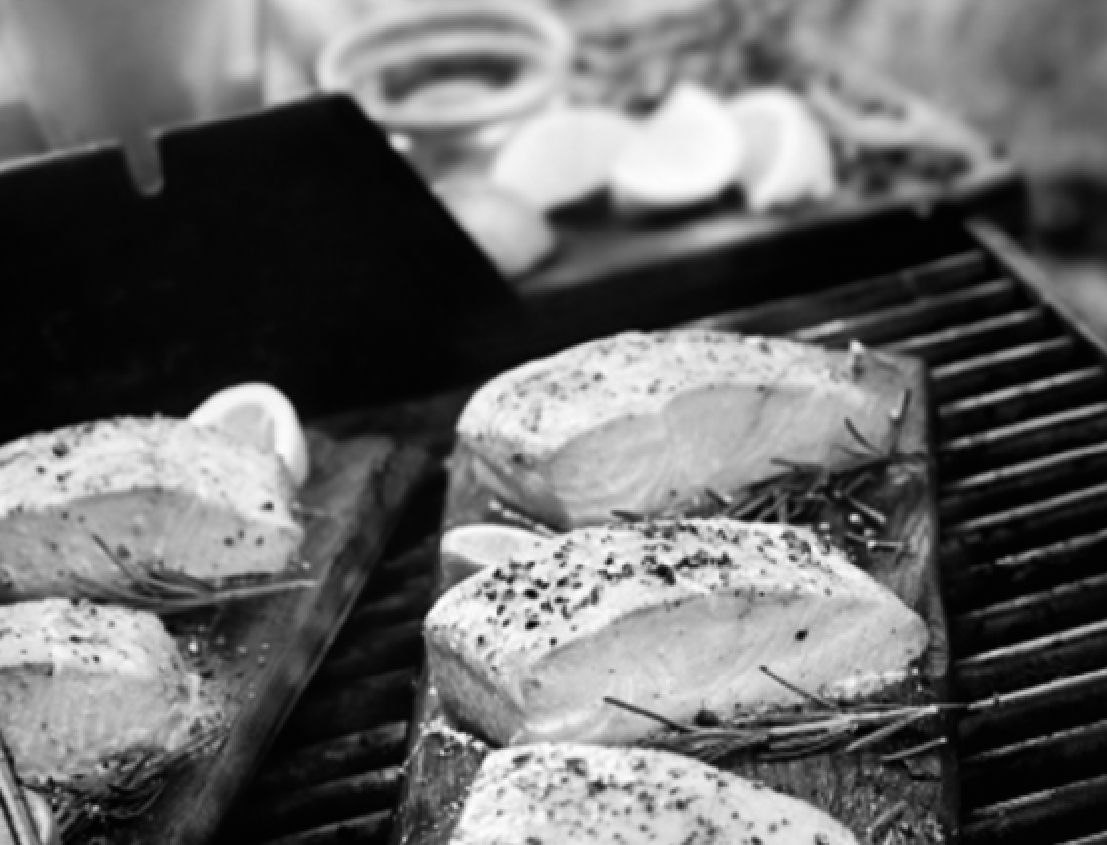 Fish is like whiskey. It's an acquired taste. After a while you get to appreciate the subtle nuances in the different kinds. Preparing fish isn't as easy as tossing burgers on the grill, either. You've got to pay more attention to make sure you don't undercook or overcook the meal. Also, unlike red meat, fish begs to be marinated, basted, and sautéed. Instead of writing about every fish available for cooking, the focus is going to be on three popular kinds- tilapia, trout, and salmon.
Tilapia
Tilapia takes on the flavor of whatever you want to put on it. They're pretty boring on their own, which means you can be creative with how you make them.
Pan Seared Tilapia
This is the easiest way to serve fish. It doesn't take that many ingredients and it's ready in minutes. The size of the fillet is up to you, but for the purpose of this recipe you'll need:
Four (4 oz) fillets

Salt and pepper. Seasoning is completely up to you. Use cajun seasoning for a spicier meal.

1/2 cup all-purpose flour

1 tablespoon olive oil

2 tablespoons unsalted butter, melted
Anytime you buy fish you should rinse it in cold water and pat dry with paper towels. Use your seasoning to coat each side to your liking. You don't want to overwhelm yourself at first, so start light. Pour the flour into a shallow dish and gently press the fillets inside. Shake off loose flour before continuing.
Put the skillet on the stove and turn to medium-high heat. Pour the olive oil in and let it heat up for a minute or two. When it's ready, put the tilapia fillets in and cook each side for about four minutes. You'll know when they're ready when the fish flakes easily with a fork. Before you take them out rub the melted butter on each side. If you have lemon slices squirt some juice on the fillets to add citrus to the seasoning. Serve and enjoy.
Trout
Men are like bears and eagles. All three should love fishing for and eating trout. Whether you caught the fish yourself or bought it from the supermarket isn't as important as preparing it correctly. This recipe is a step up in difficulty from the tilapia. It should go without saying, but remove the skin and all bones from the fillets before cooking.
It's Trout Thyme
This recipe is for two trout fillets, so if you have more just add more ingredients. What you'll need:
Two trout fillets

1 tablespoon olive oil

1 tablespoon minced fresh thyme

2 cloves minced garlic

1/2 teaspoon black pepper

1/4 teaspoon cayenne pepper

1 lime for juice
The black and cayenne pepper can be substituted with any seasoning you like and in any quantity you want. Combine all ingredients in a large ziplock bag and shake it up to mix everything together. Place the fillets in the bag and let them sit in the fridge for at least two hours to get maximum flavor. When you're ready, discard the ziplock bag and sauté. Heat the olive oil in a pan and cook the trout for around ten to fifteen minutes, turning once. You'll know it's ready when the fish easily flakes.
Salmon
The King of Fish has been saved for last. You can tell yourself you're eating it because it's high in protein and vitamin D, or you can be honest and say it's because it's flippin delicious. It can be a bit pricy to order at restaurants, so save yourself some money and make it at home. You can't go wrong with this last recipe.
Blackened Salmon Fillets
Like the trout above, make sure the bones and skin are removed. After that's done, you'll need:
4 salmon fillets

2 tablespoons ground paprika

1 tablespoon ground cayenne pepper

1 tablespoon onion powder

2 tablespoons salt

1/2 teaspoon ground white pepper

1/2 teaspoon ground black pepper

1/4 teaspoon dried thyme

1/4 teaspoon dried basil

1/4 teaspoon dried oregano

1/2 unsalted butter, melted
If you're thinking there are more ingredients involved in this one, pat yourself on the back, because there are more ingredients involved. Just like the other recipes, you can substitute spices for what you have available, but don't stray too far because this makes a damn fine fish.
Grab a small bowl and mix in the paprika, cayenne pepper, onion powder, salt, white and black pepper, thyme, basil, and oregano. Take a brush and coat both sides of the fillets with the 1/4 of the melted butter, you can eye this part, just be sure to leave some butter to pour on in the pan. Take your spicy pepper mixture and sprinkle all over until your satisfied. In a large skillet on high heat place the salmon fillets inside and cook for 3-5 minutes, or until blackened. Flip over, pour the remaining butter on, and continue the cooking process until both sides start to get crispy. By now you're basically a pro and should know that when the fish easily flakes with a fork, it's good to go.
Any of these dishes are fit to make yourself, a date, your wife, or friends. The only trouble you might run into is everyone thinking you're a trained chef.