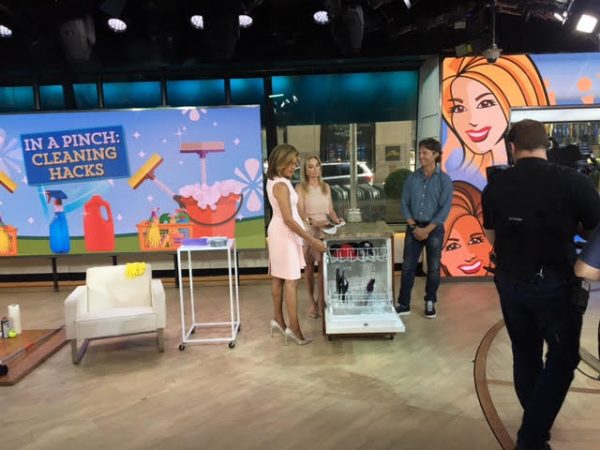 When you set out to build a modern line of cleaning products — you first have to understand the common types of stains, odors, and messes faced by the average household and some of the wild lengths people go to trying to deal with them. Mike Eaton, CEO & Founder of Hero Clean, has seen it all in his quest to create the most cutting-edge line of home cleaning products and knows a thing or two when it comes to getting things clean.
Mike recently demonstrated his knowledge on Today with Kathie Lee and Hoda, and folks were surprised to learn that many common household items are technically multi-purpose. You don't have to purchase any "as seen on TV" gadgets or overpriced elixirs to get the job done.
We like to keep it simple around here — that's why Mike made the Hero Clean regimen multi-use so that all you need are these 4 household cleaning products, and for some specific cleaning challenges… a little ingenuity.
Here are 10 household hacks you can test out immediately with items you probably already have at home:
Cleaning the Bathroom
Use Coke! Pour it in all around the toilet bowl, let it sit overnight and flush in the morning!

Build a "toilet bomb": 1

 

Cup Baking Soda,

 

1/4 citric acid, plus a little dish soap (we, of course, recommend Hero Clean Dish + Hand Soap!). Mix until it's a sand-like texture and separate into an ice cube tray. Let the mixture sit for 4 hours, no need to freeze or refrigerate. Then you just drop into the toilet bowl, let it fizz and flush! 
No tile cleaner? Use toothpaste to clean the grout in the bathroom.
Use dryer sheets around the base of the toilet and walls to clean and deodorize. They also leave an oily residue so that dust doesn't collect.
Cleaning the Living Room
Use WD-40 to remove crayon and marker on hardwood floor

Spray a bit of WD-40 onto a tennis ball to remove crayon and marker from walls without taking the paint off. No elbow grease required!

No Swiffer or dust collector for your floors? Place a tube sock over your mop and just like that, you have a 2-in-1.
Remove pet hair from the couch or fabric chairs with rubber gloves and watch as it balls up.
Need a bigger solution? Wrap duct tape around a paint roller for a life-size lint roller.
Bonus Cleaning Hack
There are some items in your life that are lurking with bacteria but never receive individual attention. Think flip-flops, hair brushes, hats and house keys. Luckily you own the perfect sanitizer: the dishwasher! Place these items on the top rack on a low setting and short wash.  Remember for super stinky items to use Hero Clean Odor Eliminator Spray on clothes, shoes, gear and even inside a smelly trash can!
Do you swear by any particular cleaning hacks in your household? Comment with your favorites below!