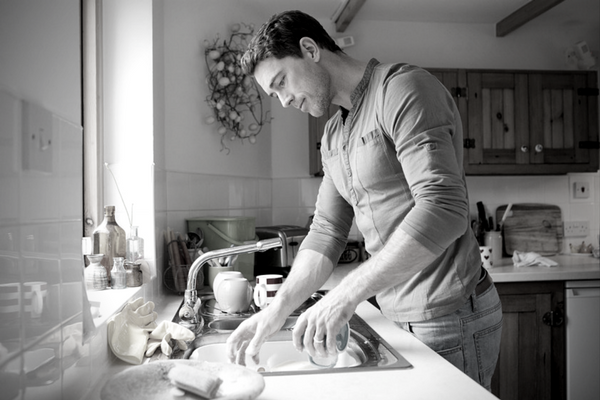 We created a line of modern household cleaning products to solve multiple problems; from a lack of options for guys, products that did little more than temporarily mask odor with an overpowering scent, and to stop the insanity!  You don't need a zillion products to clean your house, garage, office etc. To make our point, each product lists its multiple uses on the back of the bottle. The instructions are quite straightforward for those who are first-time cleaners, but we'll help spell it out for you.
Laundry Detergent: Our laundry detergent is a 2-in-1 everyday and sports wash – you don't need to buy two separate detergents!  It specifically targets hard to remove stink, stains from proteins, starches, fruits, oils, and fats, all while protecting colors and whites. For set-in stains, rub a small amount on the spot and wash normally. It comes in liquid and pacs, even easier because you're not required to do any measurements (which we know can be scary!).  We suggest a lint roller for the glitter.
Odor Eliminator: Use on clothing, sheets, autos, furniture, carpeting, and pet zones. Don't actually use on your pet — just his or her favorite spots to lay and groom oneself. It can also be used as a laundry pre-treatment to remove those nasty odors embedded in your clothes, just spray down before tossing into the washer. For gnarly odors on things like shoes and dry-wicking fabrics, saturate them in Odor Eliminator, let it dry and then wash in Hero Clean laundry detergent or in the case of shoes, wear as normal.
All-Purpose Cleaner: Cuts through grease, wipes clean and has a low streak formula. Great for kitchens, bathrooms, bedrooms, garages, caves and shops. Use this on everything from your shower to your bikes — one bottle does it all. Seriously. It doesn't feel sticky or slippery – great for workout benches and weights, computer screens and the bathroom sink.
Dish + Hand Soap: Add three pumps to a sink of hot water, then add dishes. Let soak for the length of an overly-witty sports highlight show segment, then rinse. Not only will your dishes be squeaky clean, this baby powers through grease on pots and pans.  For hands…please don't tell us that you need instructions on how to wash your hands. Also great for anything else in need of a little soapy water: hands, bathroom, floors, bikes, F-14's.
Fascinated by the idea of four products that can simplify your life and consolidate your under-sink area? You can purchase the full kit on our website, shop for individual products locally, and buy online at Target, Jet or Amazon.